Who is the CPHS Choir Booster Board?
Welcome Choir Parents and Family Members!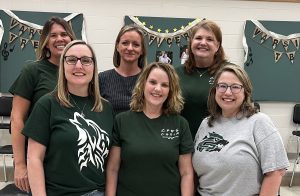 2nd Row: Wanda Cooper (Volunteer Coordinator), Amanda Hutchings (Vice-President), Priscilla White (Treasurer Elect)
                   1st Row: Sara Newman (Treasurer) , Karon Bowers (President), Amy Johnson (Secretary) 
The CPHS Choir Boosters is an organization of parents and family members with students in the CPHS Choir Program.  Our goal is to provide support for the program. This entails helping with financial needs, as well as volunteer needs, in order to help our various choirs continue to perform at the stellar level that we have become accustomed to and recognized for.
As a parent, guardian, or family member of a choir student, you are already a Booster member. There are no dues or fees required, and your input is always appreciated. Booster meetings are held the second Monday of each month at 6 PM on Zoom. These meetings are open to all, and we encourage and welcome active participation. There are many volunteer opportunities available throughout the year; these will be posted in the weekly Choir Wire and/or on the CPHS Choir website. Meeting dates are posted below.
Please get involved! Your support is vital to continuing the CPHS Choir's award winning success!